Meet Carrillo's Magnet Coordinator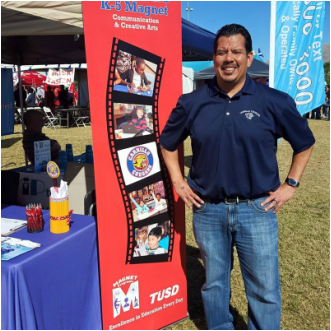 Robert Soza-Villanueva (better known as Mr. SV) has been part of the Carrillo Community since 2007. Formerly a 4th and 5th grade teacher, Robert is in his second year as Magnet Coordinator. His duties include: recruiting new families to Carrillo, organizing educational functions for the school community, and attending local events to promote the magnet program of Carrillo.
If you are interested in scheduling a tour, feel free to contact Robert at (520) 225-1200 or
contact Mr. Soza-Villanueva by email
.
Tours
Tours last approximately 30 minutes
We encourage you to bring your child
You can set an appointment or walk in
Magnet Office
The Magnet office is located at 1010 E. 10 St. Applications can either be completed and turned in at the TUSD Magnet Office or at Carrillo. If you have any questions, feel free to contact the Magnet Office.
TUSD Magnet Office